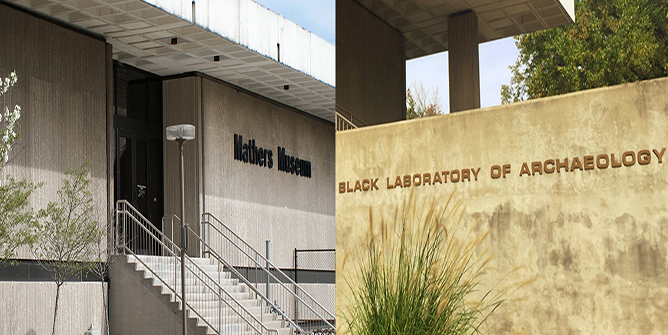 With the Spring 2020 semester now officially closed, I wanted to update you on our efforts on a number of fronts. But first, I would like to wish all of our student volunteers and employees a healthy summer, and I want to say thank you to our graduating students many of whom have been an important part of our family for years. Last fall we began work on the monumental task of bringing together the Glenn A. Black Laboratory of Archaeology and the Mathers Museum of World Cultures into one new institution, the Indiana University Museum of Archaeology and Anthropology (IUMAA), and redesigning our building, exhibits, and the way we work. In many ways, the process has been like combining two families to create something bigger, stronger, and more diverse. We now face many of the tasks that go along with combining households: we are building a new home, and moving out of familiar spaces, all of this while working in a global pandemic!
Our building renovation is addressing outdated and inefficient HVAC and other infrastructure, and because these issues have far-reaching implications for the safety of our collections and the people who care for it, our renovation is still on track in spite of COVID-19. The pandemic situation has meant that we've been conducting our planning meetings and collections work online via Zoom. Not being together has been difficult, but we are committed to doing whatever we can to slow the spread of this disease. Soon enough we'll all be back in the building working hard to continue preparing for the move and renovation.
We're excited about the plans for the building and will share those broadly once they are finalized—for now we can say that you'll notice improvements to our entrances and programs spaces. Major changes will encourage visitors to explore the behind the scenes work of the museum more easily. People will be able to see what kinds of work takes place in our laboratories, storage, and analytical spaces, while improvements to collections accessibility will facilitate student, collaborator, and faculty research. New technologies and techniques are also planned for exhibit halls that will create even more meaningful learning experiences.
As you might imagine, the COVID-19 pandemic has rendered our timeline is somewhat uncertain and a little fuzzy, but we are still hopeful that in early 2022, we'll be able to welcome you into our new museum and laboratory. Until then, we hope we'll see you around campus and online. During the time we are under renovation we'll still be conducting programs, hosting research, and participating in the life of the campus. I hope you'll follow along with all or our efforts and activities via social media and the IUMAA website. Please stay safe and healthy.
Warm regards,
Ed Herrmann, IUMAA Director